The Coat of Arms of the Diocese of Mendi is explained as follows: The shield is composed of a blue field bearing predominantly silver images, so that the Marian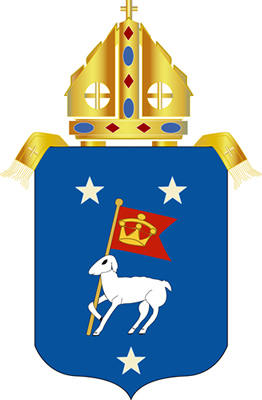 colors might be clearly seen.
The Paschal Lamb with the red banner with the golden crown between the three silver stars on the blue field represents the Mother of the Good Shepherd, the patroness of the Diocese of Mendi.
The crown primarily represents Mary as Queen of Heaven. The banner is colored red, the ecclesiastical color for charity and the humanity of Our Lord.
The three stars symbolize the Blessed Virgin Mary under her stellar titles: "Stella Maris" (Star of the Sea), "Stella Matutina" (Morning Star), and "Stella Non Erratica" - the star which led the Wise Men unerringly to the manger of the Infant Savior in Bethlehem.
(The Coat of Arms of the Diocese of Mendi was developed under the leadership of the late Bishop Firmin Schmidt, OFM Cap., First bishop of the diocese. This latest rendering of the Coat of Arms was produced by Francisco Miguel González Salado.)
Following the custom of heraldry, the Coat of Arms of the diocese is joined to the Coat of Arms of the bishop. Click here to see the Coat of Arms of Bishop Donald.