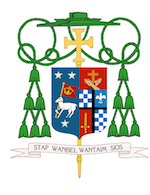 Sanguma is a Sin!
The good shepherd must protect his flock from the wolf.
There is a wolf that is threatening the flock of the diocese of Mendi and I must stand up to protect my flock. The wild dog is the persisitent belief in sanguma, sorcery, witchcraft.
This past week, in a village close to Mendi – within the sound of the church bell - there were one or more women accused of sorcery. I have seen graphic pictures of what happened. She was stripped, blindfolded, tied up with rope, cut with bushknives, burned with hot iron rods... she was tortured. It happened in public view, with many people watching, including so-called leaders of the community. It happened in the full view of children.
All who were present at that event and agreed with it are guilty of grave sin and have placed their souls in peril. I urge you to repent of this grave evil, to do penance, to confess your sins and to work to eradicate this evil from our community. You may not participate fully the Sacraments of the Church until you have done so.
You cannot be a Catholic and believe in sanguma, poisen, sorcery. Assent to retribution torture or killing of so-called accused witches implies belief in sorcery. It is incompatible with the Christian faith.
"Now the works of the flesh are obvious: immorality, impurity, licentiousness, idolatry, sorcery, hatreds, rivalry, jealousy, outbursts of fury, acts of selfishness, dissentions, factions, occasions of envy, drinking bouts, orgies, and the like. I warn you, as I have warned you before, that those who do such things will not inherit the Kingdom of God" (Gal 5: 19-21).
This kind of torture is against international law, it is against the laws of Papua New Guinea, and above all it is against the law of God. I call upon all law enforcement personnel to enforce the laws of PNG and bring the people responsible for this horrible evil to justice. And I ask all people to cooperate with law enforcement in carrying out their proper duties in this regard.
I call for the immediate release of the woman in question to police or to mission personnel.
Everyone talks of the importance of development in PNG. They only think of economic development. Without moral development, the country will not progress. It will be lost forever. Now is the time to reject this great shame to our community, to our country and to our faith. NOW!
In order to reject this evil, I am calling for a Novena of Penance that will begin with the reading of this letter. It will go for Nine Days. All members of the diocese are asked to fast, to pray and to show love and charity to one another. Parish leaders can decide the best way to observe this in each parish. This Novena of Penance is for the whole diocese because this evil of sanguma exists in many places and we must come together to renounce and reject it. I would ask that the Prayer of Saint Michael the Archangel be prayed and that we all spend additional time in prayer in order to beg God's forgiveness and mercy.
Together we can drive this wolf from our midst.
Thank you for your attention and your cooperation in this very serious matter.
Let us be of one mind and one heart with the Church,
Bishop Donald