Bishop Donald Francis Lippert, OFM Cap., is the third bishop of the Diocese of Mendi. He was nominated to the episcopal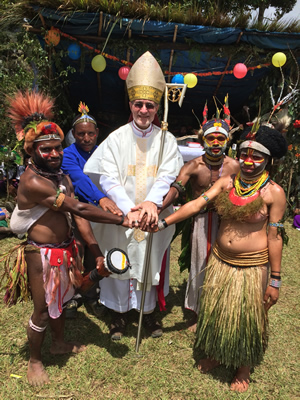 ministry by Pope Benedict on 22 November 2011. At the time, Most Rev. Francisco Padilla was the Apostolic Nuncio to Papua New Guinea and Solomon Islands. Bishop Don was ordained on 4 February 2012. His Eminence Sean Cardinal O'Malley, OFM Cap., was the prinicpal consecrator. The co-consecrators were Most Rev. Stephen Reichert, OFM Cap., Archbishop of Madang (and immediate predecessor of Bishop Don in Mendi) and the Most Rev. Bill Fey, OFM Cap., Bishop of Kimbe.
Bishop Don was born in Pittsburgh, Pennsylvania, USA on 12 June 1957 to Donald and Elaine (Unites) Lippert. He has two younger brothers, Dennis and Douglas - both of the Pittsburgh area. He attended St Catherine of Siena Grade School in Beechview, staffed by the Sisters of Saint Joseph of Baden, PA. He graduated from South Hills Catholic High School (staffed by the Christian Brothers) in 1975.
After a year at the University of Pittsburgh and two years at Duquesne University of the same city, Bishop Don entered Saint Fidelis Seminary, staffed by the Capuchins. He graduated in 1979. After a year in the Capuchin Novitiate, then in Annapolis, MD, he professed temporary vows as a Capuchin in 1980.
During his years of theological study at the Washington Theological Union he became involved in Latino ministry, influenced and inspired by the saintly example of now Cardinal Sean O'Malley, OFM Cap., who was then, the Director of the Spanish Catholic Center. Bishop Don would maintain contact Latino ministry for many years - even returned to the Spanish Catholic Center to serve as its director for two years.
Bishop Don served as a deacon at Parroquia San Miguel, Utuado, Puerto Rico. He was ordained a priest by then Bishop Sean O'Malley on June 8, 1985. After serving a year as assistant Vocation Director, he served for three years as parroquial vicar of Our Lady of Peace Parish in Conway, PA. After this he served for five years as parroquiala vicar with responsibiity for the Latino community at the Shrine of the Sacred Heart in Washington, DC.
He was then sent to the Catholic University of Louvain in Belgium to do further studies in philosophy, after which he returned to teach philiosophy and serve as formation director for the college formation program at Borromeo Seminary in Cleveland, OH - a position he held for seven years.
After a two year assignment back in Washington mentioned above, Bishop Don was chosen as the Vicar Provincial of the Capuchin Province of Saint Augustine. He had previously served for six years as one of the provincial definitors (councillors).
After being sent to visit Papua New Guinea to represent the province at an anniversary celebration, Bishop Don was touched by the needs of the Capuchin Vice-Province there and inspired by the incredible ministry of the Capuchin missionaries who had served there. Some of the original Capuchin missionaries, were growing older, and some of the younger local friars were not yet prepared to take the reins. After a period of discernment, Bishop Don volunteered to go to PNG to "help out for a few years".
After a few months of orientation, Bishop Don was assigned as guardian and formation director at Capuchin Friars College and lecturer in philosophy at the Catholic Theological Institute in Bomana, near the captial city of Port Moresby. At the next Chapter of the Capuchins, he was elected to serve on the Vice-Provincial Council.
After almost five years serving in Bomana, Bishop Don was appointed to serve as the third Bishop of Mendi on 22 November 2011. (The previous bishop, Stephen Reichert, OFM Cap., had been appointed Archbishop of Madang the previous year.) Bishop Don was ordained on 4 February 2012 in Mendi in a joyful and colourful celebration of faith and culture with thousands of people from all over the diocese participating.